December 2012
Hey, everybody! I decided to create a new website, elenastokes.com where I can showcase my impressionistic textile artwork and provide my formal resumé information. Here at Focus on Fiber Art, you'll continue to find my artisan creations of hand-dyed felted vessels, silk scarves and small fiber works on paper.
Please visit my new website NOW!
November 2012
MORE SEASONAL PALETTE
Click here SAQA SEASONAL PALETTE HOUSTON 2012 to see a slide show of pictures taken by Gregory Case of the beautiful Seasonal Palette exhibit in Houston. Unfortunately, not too many pictures of the Summer season are here. If they exist but were inadvertently omitted, I will be sure to add them later. So, my apologies to Jeannie Moore, Barbara Confer and Maya Chaimovich whose work is not a part of this slide show.
SEASONAL PALETTE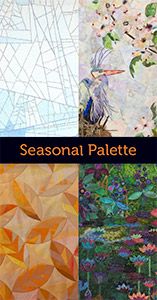 Fresh back from my trip to Houston and the International Quilt Festival where the Studio Art Quilt Association's exhibit Seasonal Palette premiered and I must share with you my impressions. Simply put, the exhibit was breathtaking! It was closed to photography so I don't have any pictures of the artwork but you can see the entire exhibit on the SAQA website, though the images don't do the artwork justice. Most of the artworks are available for purchase as is the catalogue, a beautiful hard back book with full length and detail images of each work. At $20, it's a steal.
I have to give a huge thank you to the curators of this exhibit, Kathleen McCabe and Vicki Mangum, whose vision and hard work culminated in a stunning visual experience. Thirty seven artist's work, each the same 32 x 78 inches long but with a wide variety of styles and contruction techniques, were hung around a large square room, especially created for the SAQA exhibits, with each season blending into the next as the viewer, standing in the middle, turned a full 360º. Special care was given to the placement of each work as it related to the next, creating a natural progression through the seasons. Another interesting aspect of this exhibit was having each artist document her creative progress. Journals were available to peruse by viewers, allowing a unique glimpse into the minds and souls of each artist. These were fun and fascinating to look at, full of pictures, sketches and fabric swatches. I understand an e-book is in the works for the journals and will be available for purchase on the SAQA site as well. I'll let you know when it becomes available. I can't wait!
I was able to participate in one of the gallery tours and talk about my work, Tranquil Marsh – Wild Iris. It was an interesting and challenging experience to briefly sum up my work and process. I think I might have babbled a bit. But it was fun. And it was fun to meet so many viewers throughout the weekend, to hear so many nice compliments, answer questions and be able to share my experience and knowledge. I also enjoyed meeting many of the other artists in the exhibit and other members of SAQA, many of whom put in endless hours of volunteer work. I want to give a big shoot out and thank you to them.
This exhibit will be travelling around the country for the next three years. The next scheduled exhibition will be April 11 – 13, 2013 at the IQF in Cincinnati, Ohio.
Though photography of the entire exhibit was not allowed, I was permitted to be photograghed with my own piece. My friend Mary Schwarzenberger took this ridiculous photo shoot of me striking my best glamour poses. Good grief! But we had a blast!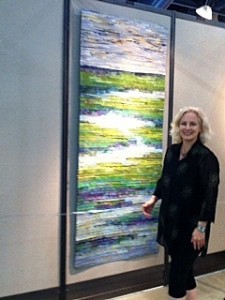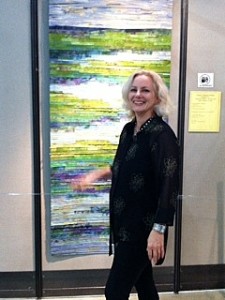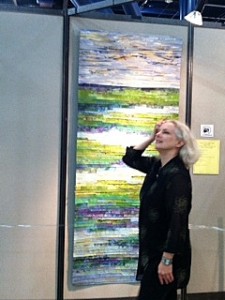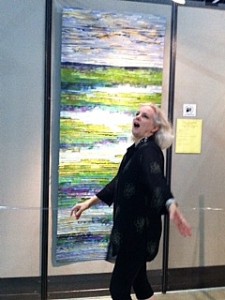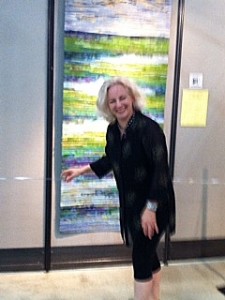 October 2012
TRANQUIL MARSH – WILD IRIS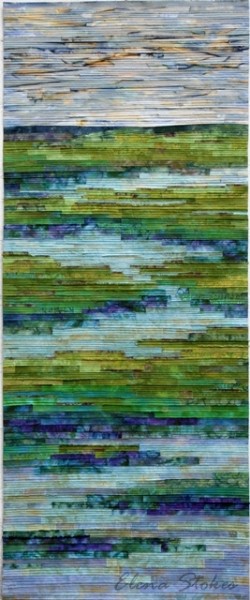 I am finally able to reveal my artwork, ' Tranquil Marsh – Wild Iris', which was created for the Studio Art Quilt Association's exhibit Seasonal Palette. Artists were asked to submit a portfolio of four artworks that represented their style, choose a season and explain why and what the concept would be. Out of 144 artists who submitted work, 37 will be exhibiting and the caliber of artists is impressive. I am truly honored to be among them. While I originally chose winter for my season, being reassigned to spring gave me the opportunity to revisit a favorite theme of mine, marshes, this time flowering with wild Japanese iris. It was constructed using my strip technique of hand dyed  and batik fabrics torn, collaged and fused and then machine quilted. Another interesting aspect of this exhibit will be the journal books written by each artist that chronicles their own journey and process of creating the artwork. These will be on display as part of the exhibit.
Seasonal Palette will premiére next week at the International Quilt Festival at the George R. Brown Convention Center in Houston, Tx on November 1st – November 4th.  I am very excited to be able to attend the festival as it will be my first trip to Houston since I moved away at the age of nine! October 31st will be the preview night for the festival and there are two scheduled gallery tours/artists talks for the exhibit. The first on Friday, November 2nd at 11 am and again on Saturday, November 3rd at 2pm. I plan to attend both. If you will be attending the festival, please stop in and say hello!
                                                warm golden light
                                        shrugs off the chill of gray . . .
                                                   blinking open
   …
                                                      lush violet
                                      blooms in a tranquil marsh . . .
                                                        wild iris
THE CENTER FOR CONTEMPORARY ART
…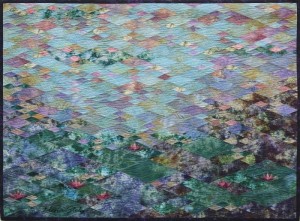 I am very proud to announce my acceptance into the
Center for Contemporary Art's
2012 Juried Exhibition, Edwin Ramoran, juror. Over 600 entries from across the US as well international entries from Denmark, Italy, Austria and Latvia were received but only 46 were accepted. My 'Nymphaea' was selected for inclusion. What an honor! The only bad news is the reception is scheduled for November 2nd and I will be in Houston for the Seasanal Palette premiere. Bummer. We should all have such problems, no? Too many opening receptions! Which one should I go to? Oy.
OPENING RECEPTIONS AT THE HUNTERDON ART MUSEUM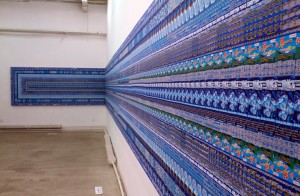 This Sunday is the opening reception for all the Hunterdon Art Museum's fall exhibits, including the Member's Exhibit in which I'm happy to be included. And you'll be able to see this stunning work by Adam Eckstrom and Lauren Was made from discarded lotter tickets as well. I don't know about you, but I can't wait! Oct. 7 from 2-4 pm.
September 2012
9x9x3 – SALON DES REFUSÉS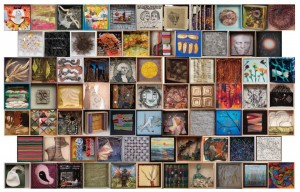 This month is the opening of the Textile Study Group of New York's 9 x 9 x 3 – Salon des Refusés exhibit in NYC. The 75 fiber art works of 9″x9″x3″ boxes are to be exhibited at Guild Gallery II of the Hudson Guild Fulton Center, 119 Ninth Avenue in the Chelsea district of Manhattan, from September13th – November 18th. Reception Thursday, September 13th  6:00-7:30 p.m.
This exhibit came about as a result of the TSGNY traveling exhibit that premiered earlier this year that received an overwhelming number of excellent submissions, 248 in all. But only 52 could be accepted. Thus, this 9 x 9 x 3 – Salon de Refusés exhibit was conceived.
The Salon des Refusés, French for "exhibition of rejects", historically were exhibitions of works rejected by the jury of the official Salon of Paris in the mid- late 19th century, but most famously is used to refer to the Salon des Refusés of 1863.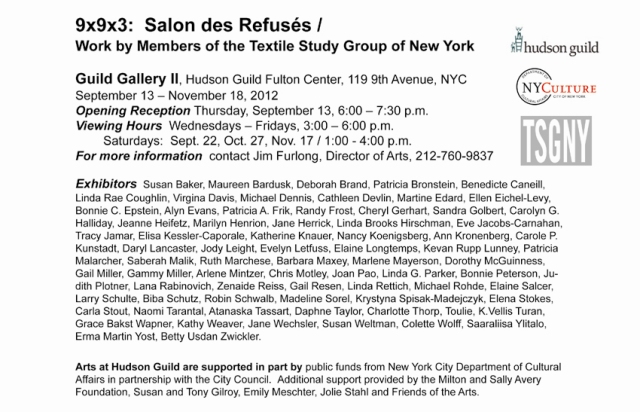 August 2012
THE HUNTERDON ART MUSEUM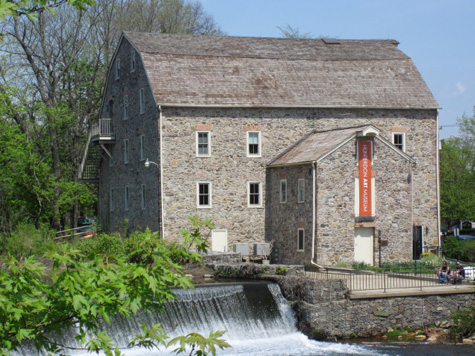 I was invited to participate in the Hunterdon Art Museum's Grand Finale Artisan Showcase and Sale later this month on August 24th which will offer up the fine works of many local artists.  Every Friday night this summer the Museum has been featuring local artists with a reception and free entry into the museum for the evening and the Grand Finale brings them all together (plus many more including me!) one last time before the season ends.  Situated on the scenic South Branch of the Raritan River, the Hunterdon Art Museum is a converted stone mill that has been beautifully renovated into a wonderful local museum that celebrates art, craft and design here in historic Clinton, NJ.  It sits directly across the river from the Red Mill Museum which is one of the most photographed and painted buildings in the country.
That evening you can come see me and purchase my hand dyed silk scarves, hand felted vessels and a few of my textile paintings.  Light refreshments will be served and admission to the museum will be free.  Come join me August 24th from 6 to 9pm.
HAM UPDATE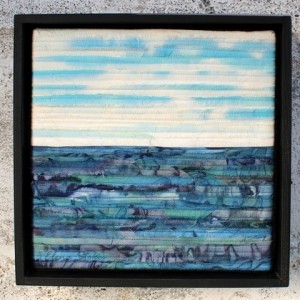 I just receive a notification of acceptance into the Hunterdon Art Museum's Members Exhibit this fall for my textile painting Noon. This is my first acceptance with the museum and I'm quite honored. The exhibition wil run from September 25, 2012 – January 6, 2013 with the opeining reception being held on Sunday, October 7th from 2 – 4pm.
July 2012
NEW WORK:  TITLE TBA
QUIET REFLECTION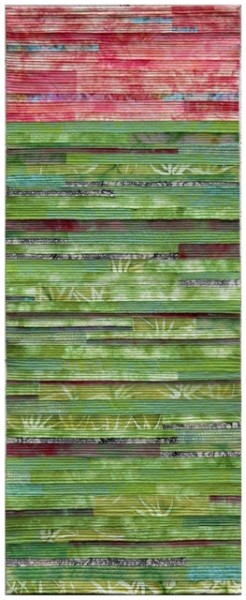 I've just completed another piece but I've yet to title it.  This one had some funny twists and turns.  I don't really do to much abstract but I wanted to play around with it. While still maintaing a horizon to suggest a sense of a place but with nothing particular in mind, I played with blocks and strips of color and texture.  Somehow, I ended up back in a landscape and a familiar one at that.  Do you see it?  Or is it just me?  I do like it and it is a more abstract treatment. What should I title it?
Follow up – Yesterday I posted this image to my facebook pages, my personal page, Elena Stokes and my page for Focus On Fiber Art. I mentioned there as I did here that I hadn't titled it and wanted to know what people saw in it. Wow! I got some really interesting responses. First, I want thank everyone who took the time to look and comment. Your input is invaluable.
I learned some wonderful lessons. Posting the artwork untitled and open to interpretation taught me my adventure into the abstract wasn't the failure I had thought it to be. I have done several Monet inspired pieces in the past and I found myself back in Giverny midway through the design process.  At least, that's what I saw.  Not that I don't like Giverny – boy, do I!  But that's not at all what I was trying to create.  So, I felt my attempt at a more abstract piece had failed.
But, alas, not so!  Because I didn't post the image with the title All Roads Lead to Giverny or something that would lead the viewer to a particular interpretation, I was delightfully surprised! Viewers left such a wonderful variety of responses. Some did see a pond of lilies while others saw the tropical South Pacific, a jungle, a swamp, a marsh in Essex or the grasses of the high plains.  Still others saw salsa verde or tourmaline or felt they were looking through blinds. For some the sky was sunrise and for others it was sunset while another saw fire.  Some felt emotions of calm or joy.
I have to admit I found the salsa comment amusing because at one point I saw spumoni ice cream.  Spumoni ice cream meets Monet.  Monet Spumone. That was another title that had came to mind but only jokingly.
I really like the fact that a wide variety of interpretations are possible and I want to keep it that way.  I want viewers to go where they want to go.  My challenge will be to find a title that is open ended, that still allow viewers to be able to freely interpret what they see.
I am open to suggestions…visit my facebook pages Elena Stokes or Focus On Fiber Art and post your comments there.  Or, if you prefer you may email me at elena [at] focusonfiberart [dot] com.
Finally – I have decided.  I'm calling it Quiet Reflection.  See in it what you will.
ARTIST STATEMENT SAGA
For those who are following along, I have just changed my artist statement once AGAIN.  If you wish to read about my trials and tribulations on this matter, just scroll down to June 2012.  The new one is nice and brief and tidy.
June 2012
SAQA JOURNAL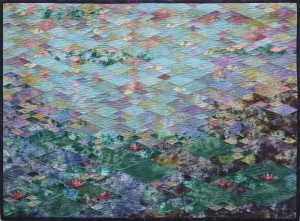 I just found out that one of my art quilts, Nymphaea, was selected for the member's gallery page of the Spring/Summer issue of SAQA Journal.  What an honor!  I guess I can officially say that I've been published.  This certainly has been a year.  When I think back to a year ago June, I had just made the decision to close my gallery.  Not a happy time, although I was relieved to have finally come to the decision.  I hadn't even joined SAQA yet.   What a great organization.  If you're an artist working textiles and need inspiration, guidance, networking and exhibition opportunities, join SAQA.  Best thing I ever did.  Check them out at saqa.com.  You'll be glad you did.  And anyone else who'd like to see some amazing work, the slideshow on the home page is wonderful.
THE DREADED ARTIST STATEMENT
Lately, I've been thinking a lot about artist statements and how much I hate them.  I hate writing them.  I hate reading most of them.  They're usually bad.  Mine included.  I've written several over the past few years and invariably, while I think they're rather well done at first, I later reread them (after they've been posted) and just cringe.  Ugh.  How corny.  How pretentious.  How pointless.  Why can't I just say this?
I am not a writer.  I am an artist.  If I wanted to be a writer, I'd write.  My art is my statement.   If I have to write a statement about my art, then I have failed.  My art speaks for itself.
Love it.
So, I've decided to share with you some of my past failures – er, statements.  The long wordy anecdotal ones to the sorry attempts at sound serious or profound.  Occasionally, I try writing a new one but never publish it.  They're just too awful but are a good exercises in and of themselves.
I guess I'll go chronologically so you can see how they have progressed (or declined? ha).  Ah, here's a really early one:
I am a quilter and textile artist.  The quilter in me wants to follow the requisite construction methods of the traditional patchwork quilt.  The artist in me gleefully ignores such restrictions and plays with innovative techniques to create contemporary and original designs.  Not unlike me, quilting has undergone a transformation over recent years.  It has transcended the domestic arts to folk art, from folk art to fine art.
My need to create and express my inner self has always been central to my life.  I've had extensive training and/or degrees in theatre and dance and I've taken numerous courses in quilting.  But, in the fine arts, I am self taught.  I use textiles the way other artists use paint.  I am fascinated by the relationships of colors and the effects of light and shadow.  As a textile artist, I've gained a deeper sense of freedom of expression which I couldn't find in the collaborative arts.
I am awed and humbled by the power and beauty of nature.  To see the sun setting on the ocean is such a serene spiritual experience.  The colors of autumn shows us that even late in life we are still beautiful, if not even more so than when we were young.  Seeing the garden coming back to life renews one's sense of hope and faith.  The view from the top of a mountain puts the world and all our insurmountable problems back into proper perspective.  It is in nature that I feel close to God.  It is in nature that I find my inspiration.
Sweet.  My favorite line is the one about the need to create and express my inner self.  Gag.  Though, I am rather proud of the 'folk art to fine art line'.  I saw it used by a museum of some repute some years later.  Did they steal it from ME?!  No?  But I'd be so flattered if it were so.
Here's a slightly different version of the first when I added felting to my repertoire.  Just the first two paragraphs were altered.  The rest was sadly the same:
I am a quilt artist and felt artist.  The quilter in me wants to follow the traditional construction methods of the utilitarian patchwork quilt.  As an artist, I gleefully ignore such restrictions and play with innovative techniques to create contemporary artwork.   Conversely, my felt art employs the traditional, time honored and labor intensive technique of wet felting to create sculptural vessels and wall art.  No machines, no knitting or sewing.  Just wool fibers, water, a little soap and a lot of elbow grease.
While the origins of many techniques used by textile and fiber artists began as utilitarian, such as quilting, weaving and felting, the uses of textiles and fibers in art have undergone a transformation over the years, transcending the domestic arts to folk art, from folk art to fine art.  It is very exciting for me to be a part of an art form that has such deep roots in our culture and history.
My need to create and express . . . (omg)
Here I'm really emphasizing technique.  Yawn.
Okay, onto another great work.  This is an earlier version of what I'm using now.  It was really edited down:
An artist friend once asked me, while looking at one of my textile paintings, why I didn't just paint?  The fact that I don't know how to paint with paint was left unmentioned.  But, it did start me asking myself why?  Why do I create art with textiles?  What is it about textiles that you don't get from paints?
Textiles are integrally woven into our lives.  They envelope us as we sleep, cocooned, while we disconnect, unplug and recharge.  They clothe us, allowing us to express who we are, even to hide or reinvent who we are.  Textiles are at once familiar, personal and intimate, a connective thread we all share. 
First, textiles are at once familiar, personal and intimate, a connective thread we all share. They clothe us, allowing us to express who we are, and sometimes, to hide or reinvent who we are.  They envelope us as we sleep, cocooned, while we disconnect, unplug and recharge. 
They're tactile.  It feels good to work with them just as it feels good to slip into a silk shirt or cool crisp sheets. 
And so, with these simple common materials, I express my thoughts and moods through landscapes.  I create places where we all, at times, would like to hide, a place to disconnect and wrap ourselves in another world.  A world where we can reconnect, regroup and heal.  Sometimes it's nice to get away from the Real World and get back to the REAL WORLD.
Oh, my.  This version never got published but I do seem to really feel the need to explain why I do what I do.  Hmm.  I really did have a friend ask me that though, which I guess explains why I (and many other fiber artists) feel a little defensive about fiber art.  I know she intended it as a compliment but it was rather backhanded.  A real (but unintentional) slap at my chosen medium or any medium other than paint.  Doesn't she know?  Medium doesn't matter.  It's not about the medium, it's about the Art.  Good Art will transcend any medium.  Just work with the materials you enjoy.  'nough said.
This brings us up to date.*(not anymore, as of July 10, 2012)  My current statement (or what was current) is (was) a shorter version of this last one.  I'm still not happy with it. (that's why it's gone now.  Here it is,  just for the record:
An artist friend once asked me, while looking at one of my textile paintings, why I didn't just paint?  The fact that I don't know how to paint with paint was left unmentioned.  But, it did start me asking myself why?  Why do I create art with textiles?
Textiles are integrally woven into our lives.  They envelope us as we sleep, cocooned, while we disconnect, unplug and recharge.  They clothe us, allowing us to express who we are, even to hide or reinvent who we are.  Textiles are at once familiar, personal and intimate, a connective thread we all share. 
With these simple common materials, I express my thoughts and moods through landscapes.  I create places where we all, at times, would like to hide, to disconnect and wrap ourselves in another world.  A world where we can feel connected, to all who came before and all who will follow, we who share this beautiful earth.)
I especially hate the last line.  How PC.  Let's go Green!  Not that I'm against Green, I just don't want to campaign for it in my artist statement.
So, I decided to write another one.  Now, we're really going to have fun 'cause this latest one won't be published except here as an example of what not to do.  But it was cathartic.  It's ridiculous, it's nonsense, but hilariously (or is it sadly?), true.  Enjoy. (if you can):
I can't sing.  Not that I don't sing.  I do, just not well.  And by myself.  Growing up, I was drawn to the performing arts of singing and dancing. I love close harmony.  I love the convergence of the different tones and rhythms of instruments and voices.  I love jazz and swing and Latin rhythms.  I can't sit still when I hear them.  They literally move me.  But, I can't sing.  So, I learned to act and dance.  I'm pretty damn good at Mambo.  But, can't sing.
Now, as visual artist, I've noticed a similarity.  When the various elements of color, light and line, balance, movement and rhythm all converge and come together well, they produce a harmonic resonance that vibrates.  Now, each of us is on a slightly different wavelength so different things, music, people or art, will resonate within us a little more or a little less.  When I'm really happy with a piece of art (mine or someone else's) it literally moves me.  I can feel a sensation, a kind of harmonic vibration.  In other words, it sings.
So now, with my art, I can sing.
Working with textiles as a medium provides more than a visual experience, there's a physical, tactile experience as well.  And it's comfortable, a very familiar material everyone can relate to and yet it's still different, not what you'd expect art to be made from.  I like that.
Ugh!  That's so bad but pathetically true!
As I continue to write really bad artist statements, I'll post them here periodically.  Hopefully, someday I'll write a good one.
SAQA AUCTION DONATION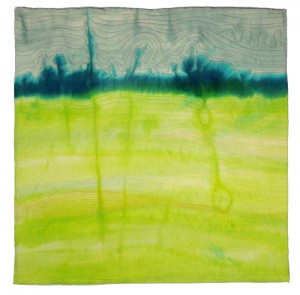 As most of you know, I belong to a wonderful organization called SAQA (Studio Art Quilts Associates) that supports artists who work in fiber and textiles.  Once a year, SAQA, a not for profit organization, raises money by auctioning off 12 x12 inch art quilts created and donated by its members.  As a new member to this group, I am proud to say I completed my auction piece before the deadline of June 1st.  And here it is – Wander Yonder.  It's wholecloth silk hand paintedby me with dyes and then machine stitched.
There are many wonderful works of art to bid on beginning September 10th of this year.  I will keep you posted as the date approaches.
May 2012
IT SUDDENLY DAWNED
I completed the work in progress and titled it 'It Suddenly Dawned'.  This one went a lot faster than the Wild Iris quilt, thank god.  It's almost the same dimensions – 75.5 x 32 inches.  I made the sun with a dupioni silk piece that I dyed with a dye pen and then added hand embroidered stitches of silk.  I'm not sure I'm completely happy with the sun but I had to finish it up in time for a submission deadline.  If it doesn't get accepted, I may change it.  We'll see, it might grow on me.  A haiku will be written for it for my haiku art group that I've recently joined.  It's a blogspot group that combines haiku with art, mostly fiber related art but I think any artist is welcome.  We are looking for new members if anyone is interested –
http://haikuart.blogspot.com/
.
MAY 31st – UPDATE:
Very excited – I just found out today that It Suddenly Dawned was accepted into the 30th Annual New Legacies: Contemporary Art Quilts Exhibition in Fort Collins, Colorado. Whoohoo! Opens July 3rd and runs through Sept. 5th.
WORK IN PROGRESS
I just finished designing my latest art quilt.  It continues my developing water series.  I do love this long vertical format.  It's still in pieces on the design wall with just a wad of fabric I was auditioning for the sun.  Still looking.  Next step is to take it down in one swoop and prepare for quilting.  I'll post when it's finished.  Soon!  (After I took this picture and saw it on the small screen, I immediately began tweaking.  Already it's changed!)
April 2012
TRANQUIL MARSH – WILD IRIS
Though I cannot yet share the full image of my Seasonal Palette artwork, the final title being Tranquil Marsh – Wild Iris, I can share with you the artist statement which was requested to accompany the work.  I decided to write it in haiku, I guess because the Japanese iris growing in the marsh brought it to mind.  We were limited to 25 words so I wrote two haiku.  Hopefully, they will give a hint as to what it looks like in full.  You'll notice this is where I found my title.
warm golden light
shrugs off the chill of gray
blinking open
–
lush violet
blooms in a tranquil marsh
wild iris
March 2012
SEASONAL PALETTE UPDATE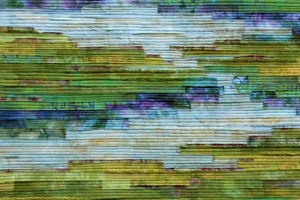 I have completed my marsh (phew!) and I'm very pleased with the results.  I can't wait to see it hanging in the exhibit next November with all the other seasonal art quilts hanging side by side.  It should quite something.  It is quite an impressive group of artists that were juried in so I feel very honored to be among them.  I debated whether or not to post an image of it on line but I've decided to hold off.  I did put a small detail on my facebook pages but it was a really small area so I'm offering this additional sneak peak.  I will definitely post the full image in the fall.
January 2012
HAPPY NEW YEAR!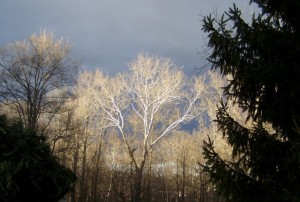 It's a new year and a new life.  Life has taken a decidedly different turn from where I was a year ago.  With the closing of my gallery, I am now happily ensconced in my studio at home, which, by the way, has a wonderful view of a beautiful sycamore.
I have been feeling rather remiss for not posting in many months.  Here's a brief rundown of what's been happening:
September –  I finished closing up the gallery and was able to sell off most of the display items and lighting installed so I didn't have too much to move – yeah!  My old space was rented by another local artist, John Schmidtberger, who paints wonderful plein air views of the area.  He's done a beautiful job of redoing the gallery space and has lovely works of art by John, his wife Corrine as well as other artists.  If you haven't already done so, I encourage you to stop by his gallery, Schmidtberger Fine Art at 10 Bridge St. in Frenchtown, NJ.  You won't be disappointed.
October – A difficult month.  I have become highly allergic to mold, leaf mold especially.  With the incredibly wet year we had here in New Jersey, I really suffered so I didn't get much done.  I did manage to get my studio in order (yeah!) and I started to work on my art quilt for Seasonal Palette.  I had selected Winter as my choice of seasons, but due to an overwhelming number of artists who also selected Winter, I was reassigned Spring!  Sweet.  That was my second choice.  One of the reasons I had chosen Winter was the advantage of being able to create the artwork during that season.  If I needed any help, look out the window!  But having been assigned Spring is rather nice.  Now, I have a respite from all the bleakness out the window and get to look at lovely verdant colors as I work.  Yum.
November – Oddly, I couldn't seem to make up my mind for my Spring concept.  I had a few false starts.  Changed my mind a couple times.   Finally, settled on one that I'm happy with (still!)  I also started to deal with trying to work at home.  Hmmm . . . those of you who do know only too well what I talking about.  It takes self-discipline, not my strong suit.  I decided that this was my opportunity to develop some.  Ha!
December – I made progress with Spring.  Then I regressed.  Pushed through, more progress.  Then more regress.  Two steps forward, one step back.  Arrg!  Had a Merry Christmas . . . but I digress.
January – Early in January, I was more than halfway through my allotted time to create my Season Palette artwork when I decide I wasn't happy with a design choice.  Ugh!  Just when I was starting to feel better about how much progress I'd made (about 2/3 ), I realized I needed to redo much of it.  It wasn't a complete overhaul.  I just rearranged the layout a bit.  Okay, a lot.  I'm not going to reveal too much about the design but I will say that it's a marsh.  Marshes have been a favorite subject of mine but this one is much more elaborate . . . and bigger, to say the least.  Suffice it to say, I am so glad I made this last change.  My original marsh design had been influenced by something I'd seen online and I ended up producing something that wasn't quite me.  Now, I'm quite pleased with myself (grin) and feeling much relieved.
I have to say, I've been rather puzzled with how difficult this process has proven to be.  I haven't entered a lot of shows or exhibits in quite some time, having taken a break from quilting all together and then, opening up a retail business.  But since I decided to delve back into my artwork and really start taking it seriously, acceptance into this exhibit is a real milestone for me and an incredible opportunity to take my work to another level.  So, I'm feeling the pressure.  I have to make this GOOD.  Not just in quality but it needs to say something about me as an artist, that reflects my point of view, my voice.  My problem is that I feel like I'm really just beginning to know what that voice is.  So, this is a little scary.  And really exciting.  Stay tuned . . .
September 2011
SAQA – SEASONAL PALETTE
I just found out that I got accepted into a juried, members only Studio Art Quilts Association travelling exhibit, Seasonal Palette! Artists had to submit a portfolio of four quilts, choose a season and explain why, along with an explanation of the technique to be used. Thirty-eight quilt artists were selected out 147.   We have one year to create the artwork – 32″ x 78″ high, which will première at International Quilt Festival at Houston on November 2012 and then the International Festivals at Cincinnati and Long Beach in 2013. More venues will be added thru 2014. This is a big one, folks. To say that I'm very excited is an understatement.
August  2011
Dear friends and loyal customers, as much as I have enjoyed owning and running my own gallery in Frenchtown, NJ, meeting you all and sharing my artwork while supporting my fellow fiber artists, I realize keeping up with it all is taking me away from my true passion, my art!  Opportunities for local, regional and national exhibitions have arisen, demanding more of my attention.  So, I need to conserve and focus my energies solely on my artwork.  Unfortunately, this means I'm letting my little retail gallery go.

But not to worry, you will be able to find my art  right here at this website as well as in shops and galleries, local, regional as well as national exhibitions of which I will keep you posted right here on this website/blog and on my facebook page Focus On Fiber Art, where I hope you all will 'Like' me.  Yeah, yeah, I know, you like me, you really like me!
Except for a brief but well earned vacation break from Aug. 24 – 28, the gallery will remain open through Frenchtown's next big festival on the Labor Day weekend – Riverfest!  After that, the process of closing up will go on through the end of September.  I hope you will be able to stop in and say hello but not goodbye and snag that fabulous piece of artwork you've been eyeing.  Oh, please, don't deny it, you know you want it!  You will enjoy many never before seen sales and discounts on original artwork by many artists.
And so Frenchtown, I do not say goodbye but simply, au revoir . . .
Elena Stokes
SOLD!
Another sale.  Monet Matters just sold today. (Scroll down to see image)  A gift for a couple in Massachusetts – it's her 50th birthday and he celebrates his new citizenship!  Whoohoo!  Makes me feel so good to know my work touches people and that it will live long in someone's home.
July 2011
9 x 9 x 3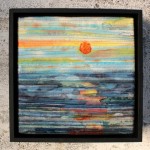 Just completed three new pieces for an upcoming exhibit called 9 x 9 x 3.  All work must fit into a wooden 9x9x3 inch box.  I entered three, hope they all get in.  Won't know till early October.  Fingers crossed!  Click on Morning at left to see all three – Morning, Noon and Night.  These are made with strips of french silk scraps from an atelier in Clermont Ferrand I was priveledged to acquire through a friend of mine in France many years ago.  Merci, Geneviève!
9 x 9 x 3 UPDATE
Alas, my trio was not accepted into the exhibit due to an overwhelming number of entries, I'm told.  But, good news!  The Textile Study Group of New York, whose exhibit I entered, has decided to have another exhibit – 9 x 9 x 3 : Salon des Refusés, an exhibit of the rejected artwork.  Each artist is being given an opportunity to choose one piece to be shown in this exhibit which will be in September of 2012.  I have chosen Morning which you see above.  I'll let you know of the exact dates and location.  Very excited.
SHOW ME THE MONET!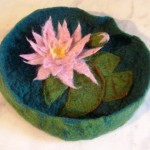 Frenchtown's Bastille Day Fête is July 16th.  Here at the gallery we'll have several works inspire  by Monet including  my felted water lily vessel as well as art quilts, hand dyed silk scarves by moi and thread lace vessels and quilted bowls by Mary Schwarzenberger.  Stop by to see some amazing work!  Take some home.
June 2011
SHAAK ATTACK!
I just finished up a project for a 2nd grade school teacher who retired this June of 2011 after more than 31 years of service.  The mother of one her students commissioned me to make a quilt in her honor.  The design motifs of the quilt are based on things this teacher has been famous for over the many years of her career.  She is quite beloved among her students and parents of her students.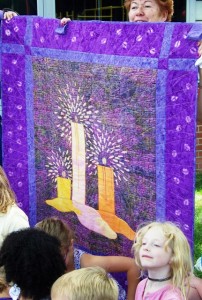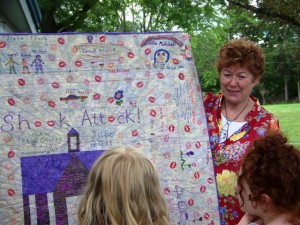 There are a couple of special things she would do for her students . . . Her name is Mrs. Shaak and she would celebrate her students birthdays by giving them a 'Shaak Attack!' – which consisted of being smothered with lipstick kisses all over their little faces and sent home this way.  How cute!  And then she had story time.  The lights would go down and candles were lit as the kids quieted down.  Afterwards, one lucky child was chosen to receive some melted wax, warm and soft and smelling so good, to take home. So, the front of the quilt has candles glowing with melted wax dripping and kisses stamped in the border.  The back is all different patches of fabric with signatures and pictures drawn by the children surrounding a large schoolhouse block. Red smoochie kisses were added all over the back.  The children presented to quilt to their teacher on the last day of school, June 14, 2011.
I want to thank Christine Houghton for asking me to make this quilt.  It was so much fun to make as well as being quite an honor being involved with such a wonderful project.
BITTERSWEET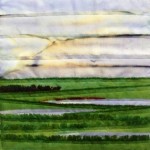 Bittersweet news.  One of my favorite little art quilts sold today – Marshland.  It's a favorite of manyof my customers as well so I know that the news will be a disappointment.  But I have been toying with the idea of doing a series of marshlands, so not to worry.  You'll see more . . .
May 2011
YEAR ONE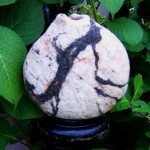 The month of May marks the 1st anniversay of Focus On Fiber Art.  Open house Saturday, May 14, 4 – 8pm and Sunday, May 15th, 1 – 5pm. Featured will be my felted vessel series 'Felt Rocks!'  All are welcome!
MONET MATTERS
My obsession with Monet's water lilies continues . . .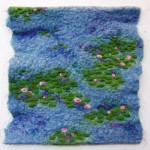 Getting a felted piece ready to enter in a fiber art show at Some Things Looming in Reading, Pa.  I've had blast doing my 'Felt Rocks' vessels and now I'm trying a landscape.  Here it is in progress.  I'll post more pics when it's done and let you know if it gets in!
M M UPDATE
Just found out my Monet Matters was accepted into the upcoming exhibit at Some Things Looming in Reading, Pa!  The show is called Size Matters and every entry had to be no larger than 12 inches in any direction.  The exhibit begins May 7th with a reception from 3 – 5 pm.  My friend and fiber artist Mary Schwarzenberger also will be featured in the exhibit.
March 2011
SPRING FEVER
After this winter, we're all so color deprived so I've been dying to dye intense colors. Spring and summer are right around the corner but you can come in and take home something sizzling right now. These are my latest hand dyed silk scarves perfect for you spring and summer ensembles. Don't they look like Rorschachs?
MY JOURNAL BEGINS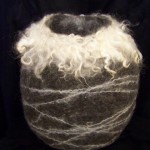 Okay, I'm starting a journal.  A journal of my journey as an artist and gallery owner.  My fear is that I'll bore, have nothing to say, too much to say or forget to blog.  But my real fear?  – getting totally hooked.
My name is Elena and I opened a retail store in Frenchtown, NJ in 2008.  Yes, I said 2008.  I know what you're thinking and you would be right.  Perfect timing – NOT!  But, actually, for me it was.  After many trials and tribulations and much self-exploration, I decided on this venture and I was off and running my own business.  Unfortunately, the economy didn't cooperate.  I'll admit, I came close to throwing in the towel.  But, rather than retreat, I decided to reinvent.  So, in 2009, while business was slow, I set up a small studio area in the store and let my creative juices flow.  Something click, with me and my customers.  I went crazy dyeing silk scarves and people went crazy over them.  I pulled out old art quilt projects and started new ones.  Before the year's end, I found myself in a textile art exhibit in New Hope, Pa. and that did it.  Something inside was calling me and I had to answer back.  Yes!  What started out as a home decor store in 2008 transformed into my fiber art gallery and studio, Focus On Fiber Art, in 2010.
I't's been almost a year since the reinvention and I'm completely thrilled with my new direction.  I had lost touch with my creativity, a big part of myself.  I now feel whole.  I also found a new passion – felting.  Felting the old fashion way – wet, soapy, sloppy and labor intensive.  If you're lookiong for a great upper body workout, try felting.  No knitting, crocheting or sewing.  Or sitting, for that matter.  Just fibers interlocking and getting hooked.
Okay, I'm totally hooked.